Trade Show Exhibit Storage
As Southern Michigan's commercial relocation expert, we also offer our clients custom trade show exhibit storage. Our professional packing, transfer, and inventory management expertise allow them to rest easy knowing that their corporate presentation equipment and materials are protected, preserved, tracked, and always on time for events. With a proven track record of superb past performance, we've provided trade show storage for organizations in the following industries: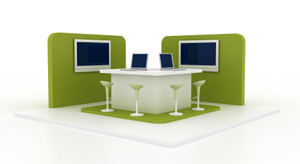 healthcare
research
legal
educational
government
hospitality
manufacturing
industrial
information technology
pharmaceutical
non-profit
Security and Inventory Management
Our climate-controlled warehouse is equipped with the following systems to assure the utmost protection for your trade show exhibits:
24-hour surveillance and security
state of the art fire protection systems
access controlled limited to screened employees
specialized racking systems
Upon transfer to our facility, every display component is carefully inspected, inventoried, indexed and barcoded. This information is populated into our comprehensive inventory control database for complete tracking of your trade show exhibit which gives you the ability to exactly know where your booth and presentation items are at all times. Our asset management system also accounts for multiple trade show displays specific to different business units and/or departments.
Pre-Event Service
Simply let Michigan Office Movers know when and where your next trade show is scheduled and we will make sure that exhibit material is shipped and delivered on time. Prior to shipping, we examine each piece of equipment to make sure that it is in excellent working condition. If an item is damaged we will repair and refurbish it well in advance of your event.
Post-Event Service
Similarly, we will inspect and maintain your equipment when it arrives back at our storage warehouse. Any hardware, components, or graphics that have been damaged during your event will promptly be repaired before being re-inventoried and refilled within our facility.
Large Display Delivery Services
Whether your next trade show is held within Southern Michigan or is located on either coast, our delivery professionals will expertly pack, load, and transport your items safely to their destination. Once they arrive at the event facility, we will unload, unpack, and set up your display for you. This includes testing to make sure everything is in safe working order.
Your Full-Service Trade Show Solution Source
Letting us keep track of your inventory allows you to focus on your core business. While having us maintain your equipment and manage your event delivery logistics saves time and enhances productivity.  Our full-service trade show solutions include the following services:
exhibit material cleaning and refurbishment
component repair and replacement
set up training
scheduling labor crews for installation and/or tear down
expedited delivery
receiving from display manufacturers
exhibit component labeling and indexing
For more information about how Michigan Office Movers can coordinate the storage and logistics for your trade show assets so that your next event is a success, please contact us by phone or complete the form on this page.