Commercial Product and Inventory Management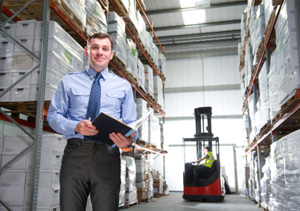 Proper product management ensures products and materials arrive in a timely fashion and helps mitigates shipment loss. Michigan Office Movers offers its clients complete inventory management of commercial products. No matter what type of items you store within our storage facility we provide you with comprehensive tracking capabilities that support your logistical and distribution needs. An easy and efficient retrieval process enables you to accurately get the items you request in the least amount of time.
Solutions for the Most Intricate Logistical Needs
With vast experience performing thousands of office relocations and installations across Southern Michigan, there's no logistical scenario that's beyond our capabilities. Our comprehensive inventory services enable the storage management of the following items:
furniture, fixtures, and equipment (FFE)
medical and laboratory equipment
modular office systems
office supplies
fulfillment inventory
information technology equipment
business records and files
Detailed Planning Leads to Success
We begin every product with a consultation to understand the specific needs of your organization. From this initial assessment, we will organize a plan that accounts for each aspect of the transfer, storage, and distribution process. This may include the following:
logistical plan development
specialized equipment handling and transportation
coordination of delivery schedules
organizing labeling, indexing, and classification structures
In the execution phase of your project, Michigan Office Movers will transfer your products from your facility to our warehouse. Our storage facility is equipped with the following systems to assure the utmost protection for your commercial assets:
24-hour surveillance and security
state of the art fire protection systems
access controlled limited to screened employees
specialized racking systems
vault storage for high-value items
Each item is meticulously labeled and indexed according to your customized inventory plan. This information is entered into our database for detailed tracking. Our inventory management system allows for up to date status reports and ensures that your products are current.
Reaping the Benefits of Outsourced Inventory Management
Years of experience allows us to tackle even the most complex logistical challenges with personalized service and precise attention to detail. Ultimately, we utilize our expertise to take the onus off of your organization so you can focus on productivity and your core competencies. In essence, outsourcing your inventory management functions can help improve your logistical processes, reduce overhead costs, and provide the following benefits:
improved auditing capabilities
precise order fulfillment
the streamlined flow of products and equipment
improved inventory reporting
For more information about Michigan Office Movers' commercial product management services and a cost-free analysis and estimate, please contact us by phone or complete the form on this page.