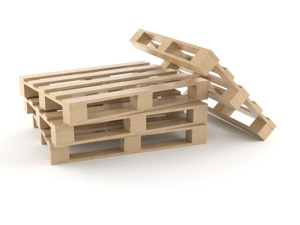 Michigan Office Movers offers secure pallet storage to meet the logistical, distribution, and fulfillment needs of our clients.  Whether you require temporary or long-term storage for your bulk, palletized items, we provide safe and secure receiving, handling, storage, and inventory of your business assets. Screened personnel, state of the art warehouse facilities, and computerized tracking systems combine to provide you with a thorough, trusted storage solution.
We consult with you to assess your operational needs and implement a custom pallet storage solution. Once we understand your specific goals and outline a plan, we move forward with transferring your pallet inventory. Our transportation and receiving services are driven by a precise process to ensure the protection and accountability for your business assets. As your strategic business partner, we take our responsibility in providing an efficient logistical process for your organization seriously.
Expertly-Trained Warehouse Professionals
Our warehousing professionals are expertly trained to assure quality control and accuracy during the transfer and receiving process. Since our clients come from a wide spectrum of industries throughout Southern Michigan that utilize specialized materials and products, our staff is trained on various types of handling equipment for operating and safety proficiency.
Similarly, each team member is specially trained on inventory management techniques including the operation of our computerized inventory management database and tracking system. This assures that your product is protected and accounted for during the receiving, storage, and shipping phases.
State-of-the-Art Storage
We've combined a state of the art facility with the most thorough inventory management system to guarantee security and complete control of your office assets. Our storage facility features:
24-hour surveillance and security
best in class fire protection systems
access controlled limited to screened employees
specialized pallet racking systems
dedicated pallet handling equipment
Pallet Inventory Tracking
After your pallets have been received and assigned a location within our storage facility, our inventory management system tracks the precise location, status, and movement of your inventory in order to support all of your logistical and distribution needs. At any time, from anywhere, you can view the status of either individual items or your complete office inventory at any time. A variety of sorting options allows for customized inventory reporting by:
type
origin/destination
department
activity
An easy and efficient retrieval process enables you to accurately get the items you request in the least amount of time with optional expedited, rush delivery.
Vast Storage Experience and Expertise
With years of experience managing products, equipment, and supplies for thousands of clients across Southern Michigan, we are familiar with the most complex logistical and distribution scenarios. Our expertise guarantees efficient and cost-effective management and delivery of the following palletized items:
fulfillment inventory
computer equipment
furniture, fixtures, and equipment (FFE)
medical and laboratory equipment
office furniture
bulk product
Michigan Office Movers allows our clients to reduce their operational costs associated with in-house bulk storage of pallets. Our professional pallet storage service allows you to reduce overhead labor costs, minimize equipment investments, and improve the overall efficiency of your organization.
To find out more, please contact us by phone or complete the form on this page.