Office Move Experience, Expertise, and Precision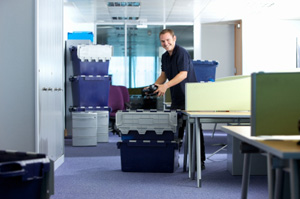 Moving an entire office requires more than just manpower.  It means meticulous attention to detail, extensive planning, and knowledge of all of an organization's systems and components.  No matter where in Southern Michigan you're relocating your business to, you need an experienced and skilled professional team to ensure an uninterrupted transition into your new office environment.
Nowadays, the stakes are high.  Every ounce of productivity enhances your competitive edge.  You simply cannot afford the organizational disruptions and downtime that come with the typical move.  Michigan Office Movers understands that your business's productivity is dependent on a quick and safe relocation.
We Consider Every Factor for a Successful Move
We provide you with industry experience and wherewithal to guarantee a successful move for your organization.  We always consider the painstaking minutia that much of the competition fails to acknowledge.  It includes looking at factors that even you may not recognize can affect the success of your office relocation:
building layout and access
route and traffic to and from your destination
workstation tracking
excess inventory
IT connectivity
corporate inventory security
With these variables and numerous others in mind, Michigan Office Movers will provide you with a customized move plan for organizing, managing, and coordinating all aspects of your commercial relocation.  Throughout the duration of your project, you are provided with a single point of contact to ensure that pre-move plans are precisely followed and executed.  Should you need additional help with an additional project along the way, we will always be there to assist you.
Our Past Move Knowledge Leads to Future Relocation Success
As Southern Michigan's premier office moving company, we've worked with a variety of clients across a wide swath of industries in both the public and private sectors.  It's this extensive experience that allows us to customize each move to the unique needs of our customers.  Our employees are specially trained so that they understand the intricacies and nuances of each organization.
Over the years we've listened, learned, and refined our processes to offer our clients a comprehensive suite of corporate relocation services.  It allows your organization to focus on its core competencies for the duration of the move so that not a drop of productivity is lost.  These are just a few of the services we provide with any corporate office move:
packing and unpacking of high value IT equipment
crating of artwork or sensitive items
cubicle and modular system assembly and disassembly
office equipment disposal and liquidation
high-density file installation
packing and storage of supply rooms and archival libraries
packing and labeling training for personnel
building management coordination
Interested in Crate Rental?
The Perfect Solution for Self Packing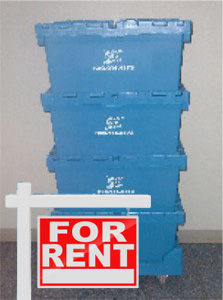 In preparation for your office move, it's important that your employees are adequately prepared for their portion of the relocation process.  They will need to pack all of the active files and documents necessary for supporting your organization's daily business processes and operations.  This may also include product and equipment manuals as well as their office and workstation supplies.  They may also be required to pack departmental files, product manuals, and personal items.  Michigan Office Movers' crate rental service provides an easy, convenient solution for your office move.
Durable, economical protection for office files
Unlike traditional cardboard boxes, our reusable crates are made out of durable plastic.  A self-locking system eliminates the need for messy tape and saves your employees valuable time.  Our crates offer the following advantages:
eliminates the need for procuring boxes
protects contents from moisture
crush-proof
environmentally friendly
cost-effective
convenient
eliminates heavy lifting
Convenient delivery and pickup
Prior to your move, Michigan Office Movers provides you with a site survey to determine the number of crates necessary for your move.  Your crates will be delivered directly to your office by one of our relocation specialists.  They arrive conveniently stacked on dollies to enable easy distribution amongst departments, floors, and staff.  We even provide your staff with optimized packing tips and methods.
Your crates come with labels to provide easy identification of your office inventory.  In order to protect files that may be of a confidential and/or private nature, we provide zip ties for additional security.  This is especially beneficial to organizations requiring HIPAA compliance.  Once you are finished with your crates, a Michigan Office Mover relocation specialist will remove them from your facility.
Our crate rental service allows you the flexibility and convenience of self-packing while reducing overhead costs associated with purchasing, assembling, and sealing corrugated cardboard boxes.  Time after time, it's proven to be an effective solution for our Southern Michigan clients in the following industries:
healthcare & research
legal
educational
government
hospitality
industrial manufacturing
information technology
non-profit
To set up a free analysis and estimate of your next office move project, please contact us by phone or complete the form on this page.
Commercial Moving Contact
We would love to hear from you! Please complete this form and we will get in touch with you shortly.