File Room and File System Moves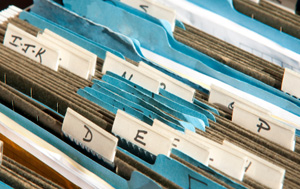 At some point, during the course of your organization's lifespan, you may have to redesign or reconfigure your current file storage capabilities. Or, you may simply outgrow your current structure and need to move your file room altogether. Whether part of an overall commercial office relocation or internal expansion and construction, you require professionals who understand the dynamics and details of file room design and management. Michigan Office Movers offers our clients extensive expertise in file room and file system moves.
Consultation, Design, and Management
After consulting with your file room personnel, records management staff, and other key stakeholders within your organization, we will lay out a detailed plan for moving your file room apparatus, documents, and files. This includes identifying any special file system handling issues. Our expertise eliminates disruptions that hinder workflow processes while maintaining organization, structure, and continuous access to your most important business records. Beyond the careful handling and transport of file room equipment we offer the following services:
shelving system reconfiguration and installation
short term storage of documents, files, medical x-rays, engineering blueprints
re-indexing and purging of records
floor plan analysis
file room design consultation
modular systems disassembly and installation
Efficiency Driven By Experience
Efficient file relocation requires a regimented protocol based on years of experience. We utilize trained professionals with a proven track record of successful past experience. Their expertise extends from not only operating the necessary, highly specialized equipment and vehicles integral to protecting your assets, but also understanding the intricacies of file room layout, logistics, and organization. Additionally, our project managers also oversee the physical file room move operation to guarantee success. While every project is unique to the special needs of each client, we've implemented a systematic approach that includes:
color and numeric inventory coding
specialized packing procedures
departmental inventory coordination
sequential packing and unpacking
collection integration/segregation
Maintaining Confidentiality and Privacy
Your business documents and files often contain confidential and private information that needs to be protected. Michigan Office Movers follows a strict chain of custody protocol throughout the handling and transfer process. Our screened staff is trained in current privacy legal requirements, which reduces the risk of exposure for your organization during the relocation process. We are proud to have provided file room and file system move services for the following industries throughout Southern Michigan:
educational institutions
government agencies
healthcare
legal
industrial and manufacturing
information technology
public and private libraries
For a free consultation and estimate of your organization's next file room relocation please contact us by phone or fill in the form on the page.
Commercial Moving Contact
We would love to hear from you! Please complete this form and we will get in touch with you shortly.