High-Density File System Installations
As your business grows and changes, your high-density file systems may need to be relocated or modified.  Since you've made a considerable investment to reduce your floor storage space, you want to make sure that your system is safely and properly handled and installed. As Southern Michigan's single-source provider of commercial moving services, we have the expertise and experience necessary for your installation project.
File System Expertise and Knowledge
Proper installation ensures that your investment is protected and that your high-density storage unit is working properly. With a proven track record of years of successful past performance, our technicians have expertise installing and servicing all brands of high-density filing systems including: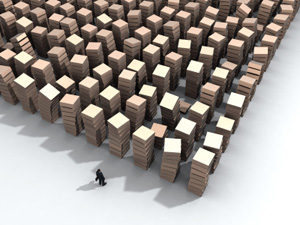 Acme
Aurora
Bradford
Datum
Directline
Kardex
Kwikfile
Lundia
Montel
Pipp
Spacesaver
Tab
Unlike many service providers, we do not use subcontractors.  Our factory-trained and certified technicians are Michigan Office Movers employees. They work closely with our project management and space planning team to ensure efficient and precise installation.
Planning and Attention to Detail
Any installation requires proper planning. Our team will consult with the key stakeholders in your organization to ensure continuity to your business processes. Additionally, we ensure that your design and space requirements are maintained throughout the installation process. Our layout and design consultants can offer you suggestions and plans for optimizing either your current space or new office facility.
A pre-installation inspection of your system helps identify any current or potential maintenance issues. Utilizing our extensive network of manufacturers and dealers, we can quickly locate parts and components necessary for repair or reconfiguration. We also closely coordinate logistical details of new systems receiving and delivery to align with your desired timeframes and organizational goals. This helps minimize any potential downtime and allows continuous access to important files during the delivery and installation phases.
Because proper alignment and layout are critical to the correct operation of your high-density system, our technicians pay strict attention to detail throughout the installation process. Careful attention is given to each component in order to guarantee safe performance. Our technicians provide the following installation services:
system performance and safety assessment
relocation and reconfiguration
pre-installation testing
client equipment use training
post-installation maintenance and servicing
cleaning and detailing
post-installation client satisfaction check-in
Should you have an especially challenging configuration or time constraint, we'll address your needs with efficiency and courtesy. There's simply no other company in Southern Michigan that matches our understanding, experience, and performance installing high-density file systems. For a cost-free, no-obligation assessment, please contact us by phone or complete the form on this page.