Office Furniture Installation
Proper Installation Requires Specialized Expertise
An important piece of any commercial relocation is the proper installation of your office furniture.  Improperly installed systems can hinder productivity and create safety hazards. And in addition, the coordination of necessary logistics is a time-consuming endeavor. Michigan Office Mover's expert installation services provide an efficient and cost-effective solution for your organization. We have an excellent reputation throughout Southern Michigan for meeting the challenges of even the most complex installation configurations. With years of experience and knowledge at our disposal, we've executed successful installations for the following entities: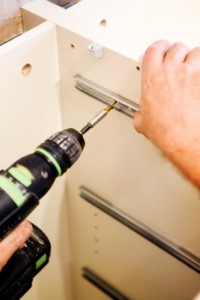 universities
public and private schools
commercial offices
government agencies
hotels and resorts
hospitals and medical facilities
research institutes
law firms
Comprehensive Knowledge of Furniture Systems
We pride ourselves on providing the best service in the industry. Our expertise minimizes any disruptions and distractions that hinder your organization's productivity. We leverage our extensive relationships with office furniture dealerships and manufacturers so that your staff can focus on your core competencies. Our professional installation service includes, but is not limited to the following systems:
high-density filing units
modular storage components
partitions
industrial shelving and racking
component shelving
task lighting
lockers
storage cabinets
Managed Installation from Start to Finish
Whether you have a single office or a multi-floor business complex, we implement a time tested process to plan, organize, coordinate staff, and manage your installation. Each client is assigned an installation project manager who will analyze your system, floor layout, design requirements, and specifications. Our familiarity with all product lines allows us to determine the most efficient configuration method for your space. This comprehensive plan covers every aspect of your installation including:
assigning staging areas
product delivery schedules
site protection needs
manpower requirements
coordination with cabling and electrical contractors
The execution phase of your project is handled by our professional installation crew. A preplanned sequence determines every step of the installation process. Our lead installer oversees every aspect of your installation while our on-site project manager serves as a single point of contact and ensures continuity from start to finish. The final steps of your installation include predetermined cleanup and recycling stages. Fine-tuning and testing are also built into the process to ensure complete excellence. A final post-installation survey is completed to make sure that all of your needs are met.
For a cost-free, no-obligation consultation of your installation needs, please contact us by phone or complete the form on this page.