Storage and Distribution Services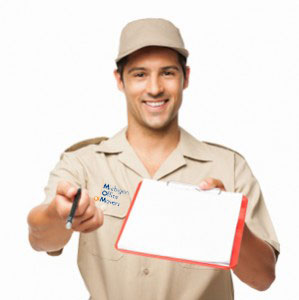 As Southern Michigan's premier commercial relocation company we offer our clients a full suite of storage and distribution services. We understand that each organization has a unique set of requirements and needs which often requires specialized expertise. Our experience providing thousands of corporate relocations serving a wide range of industries, allows us to provide customized product storage, receiving, sorting and distributions solutions to meet even the most complex and challenging logistical scenarios.
Office Asset and Supplies Management and Delivery
As your corporate relocation partner, we offer a computerized tracking system for the indexing, storage and delivery of your office assets and supplies.  We manage every logistical aspect for you so your organization can focus on its core competencies.
Warehouse Dock Receiving
Our fully equipped docks allow for the convenient loading and unloading of commercial vehicles. We offer a thorough inspection and inventory process for our clients.
Pallet Storage
Our warehouse facility is equipped with designated pallet storage racking to accommodate all types of palletized product. Our inventory tracking system allows for expedited retrieval to meet even the most time-sensitive delivery requests.
Short-Term Goods Storage
We offer flexible short term storage options to meet the transitional and fulfillment needs of our commercial clients. Whether you are in the midst of a renovation/construction project or require additional warehouse space for a truckload of pallets, Michigan Office Movers provides secure and safe storage.
Household Goods
Our turnkey residential services provide either short term or long term storage for your household goods. From pickup to final delivery we make sure that your valuables are handled and protected in the most professional manner.
Commercial Project Management
Our turnkey solutions provide the management of every aspect of your relocation, from vendor coordination to asset liquidation services. It allows you to maintain your productivity before, during, and after the transfer process.
Commercial Self Storage
We feature self-storage units in a variety of sizes to accommodate your specific needs. Our commercial self-storage services allow for a convenient and cost-effective solution for the storage of supplies, products, and furniture.
Trade Show Storage
Michigan Office Movers provides trade show storage services that preserve your exhibit materials in top condition. We inspect each presentation system prior to storage to ensure that all components are in working order and utilize a computerized tracking system that allows for quick retrieval and safe delivery to meet the tightest timeframes.
Secure Item Storage
Our state of the art storage facility ensures the safety and protection of high-value commercial assets. Screened employees, controlled access, round the clock security, and comprehensive inventory tracking provide you with a necessary piece of mind.
For more information about Michigan Office Movers' storage and distribution services please contact us by phone or complete the form on this page.