Cubicle Refurbishment and Cleaning
Reusing and Refurbishing Cubicles Makes Good Business Sense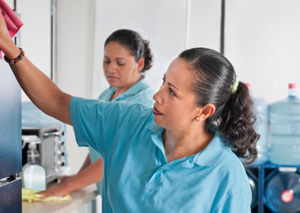 There's an increasing trend for organizations to utilize the equipment and furniture they have rather than replacing with them with costly new purchases. And over time, your cubicle systems are going to accumulate scratches, dents, nicks, and tears. With many organizations looking for cost effective solutions that reduce capital expenditures, refurbishing existing cubicle systems can translate into significant cost savings for your organization. But the following benefits are also significant and shouldn't be ignored:
supported corporate environmental initiatives
improved productivity
healthier workplace environment
Comprehensive Knowledge of Cubicle Systems
Michigan Office Mover's knowledge of the design and configuration of various cubicle models allows your organization to restore and clean your existing system in an extremely efficient and cost effective manner.  Over the years we have worked with every manufactured cubicle system including the following:
Allsteel
AIS
Hayworth
Hon
Herman Miller
Kimball
Knoll
Steelcase
Teknion
Trendway
Cubicle Cleaning and Refurbishment Specialists
Our professional refurbishment specialists will meet with you to determine your timeframe and departmental needs. Once an initial on-site inspection and analysis have been completed we will provide you with a plan to coordinate either a phased, incremental, or full facility approach. We tailor each project to our clients' specific needs. This may include but is not limited to the following services:
repair
reupholstering
panel replacement
onsite steam cleaning
layout and design
panel height and width modification
touch up
painting
Solutions and Resources for the Most Complex Refurbishments
The complexity, scale, and individual needs of your organization will determine the implementation of an on-site solution at your office or transport to our refurbishing facility. For cubicle cleaning services, our restoration time will complete your project at a time that best suits your needs. This includes, after business hours and/or weekends. Our goal is to minimize disruptions to your organization so that you can maintain continuity of productivity.
For more complex overhauls and refurbishments, our restoration team will securely transport your cubicle system to our refurbishing facility. Any additional replacement parts and materials are shipped directly to our technicians saving valuable resources and time. Delivery of your newly refurbished cubicles is also coordinated at a time least likely to interfere with your business processes. Following a detailed layout plan, they will make all of the necessary adjustments and data connections necessary for each individual workstation. Our restoration team will then either arrive on-site to your facilities to execute your project with minimal disruptions to your organization or securely transport your system to our facility for refurbishing. The ultimate goal at the completion of your project is to have your old cubicle system looking and functioning outstanding for many years to come.
For a cost free, no obligation, on-site analysis anywhere in Southern Michigan, please contact us by phone or complete the form on this page.