Office Furniture Layout and Design
During the relocation or remodeling of your business, properly planning the layout and design of your office can make your move considerably easier. A well thought out office design can also greatly improve the efficiency of your business. Companies that focus on the design and optimization of their office environments reap the following benefits: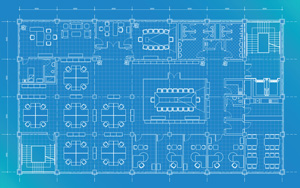 better employee morale
increased productivity
improved business processes
enhanced corporate image
decreased overhead costs
increased file storage space
Optimized Space, Improved Productivity
Michigan Office Movers provides expert office layout and design consulting services to enhance your workflow processes and ensure effectiveness for your business. As Southern Michigan's office relocation specialists, there's no office environment or industrial facility that we're not familiar with. Utilizing our extensive experience relocating, installing, and refurbishing office furniture systems, we can customize a solution that incorporates the following:
used office furniture sales
storage of additional inventory
cubicle reconfiguration
modular storage systems
file room optimization
liquidation/disposal of equipment
new furniture receiving, storage, and distribution
Office Furniture System Expertise
We offer a thorough consultation to assess your organizational needs, objectives, and timeframes. Our thorough knowledge of furniture systems allows us to recommend the most cost-effective and appropriate product solutions for your business. We have extensive experience with the following office systems:
Allsteel
AIS
Hayworth
Hon
Herman Miller
Kimball
Knoll
Steelcase
Teknion
Trendway
Visualizing an Enhanced Work Environment
Included in each project plan are drawings that enable you to visualize our design and layout recommendations. We provide you with several options so that you can choose the most economical solution for your business. Each option takes into consideration lighting and data and electrical connections, in order to accommodate the most efficient use of supplies and equipment that support your business processes.
We help you to achieve cost savings by maximizing the best use of your existing furniture and equipment while suggesting new or used options for optimizing space. Our refurbishing and cleaning team can even replenish cubicles, shelving systems, and furnishings which provides you with additional savings.  In addition to a layout, we incorporate suggestions for improving aesthetics, airflow, natural light, and navigability.
Michigan Office Movers prides itself on helping our customers enhance the office environment for their clients and customers. Our full-service furniture layout and design services provide you with a comprehensive resource for improving overall workflow and efficiency. For more information and to schedule a cost-free, no-obligation consultation, please contact us by phone or complete the form on this page.