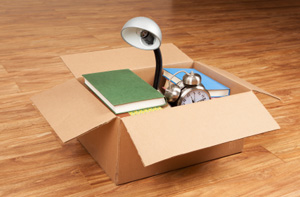 A corporate move may also involve the movement of your employees and their families. As one of your business's most important assets, your staff deserves special care and attention during your move. There's no doubt that moving can be stressful. With so many details to consider, including the transition of your employees' families, a reliable, professional resource can help alleviate some of the stress.
Customized Moving and Storage Solutions
Michigan Office Mover's full scope of residential moving services ensures that your employees' household goods quickly arrive from point A to point B in excellent condition. We handle all aspects of the relocation process for you, so you can rest easy. Our household goods moving and storage services include:
professional packing and loading
detailed inventory for storage and transfer
customized crating of valuable, fragile items
pad and shrink wrapping of furniture
appliance transportation and hook up
debris pickup
Secure Storage for All of Your Household Valuables
As part of our full range of relocation services, we offer our clients secure storage for household goods. We provide a thorough consultation and analysis of your needs followed by a storage plan that gives you the precise details of costs and logistics. Whether you require short term or long term storage for your household belongings, our specially designed storage facility protects your valuables until you need them.  It features the following:
state of the art surveillance and security systems
controlled and monitored access
detailed inventory tracking
climate control storage
Your furniture is not the only thing we can store for you. As Southern Michigan's full service moving and storage provider we also store the following items for your convenience:
antiques
electronics
documents and files
home office equipment
artwork
Delivery Handled with Care
Our professional move team is specially trained in careful packing, handling, and transportation of household goods. Prior to delivery, each item is professionally retrieved from its location within our warehouse. The item is then physically inspected in order to assure any changes in condition since being stored. Additional packaging or crating may be utilized for oversized or fragile pieces. Your inventory is then placed on one of our GPS tracked, specially designed vehicles for safe and secure transport.
When you're ready, we'll deliver your inventory directly to your residence. At arrival, you simply let us know where you would like us to place each item and we'll do so with the utmost care. We'll even help with the assembly of furniture items. Each delivery is handled with courtesy, attention to detail, and a focus on minimizing disruptions to your family.
For more information about Michigan Office Mover's household goods storage services and a cost-free, no-obligation estimate, please contact us by phone or complete the form on this page.