Library Moves and Relocation
Providing the Finest in Library Move Services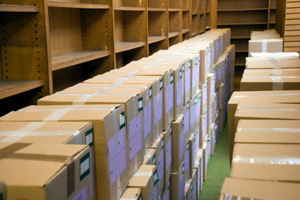 Library collections, by their nature, are optimally organized and arranged for efficient location. A misplaced or misfiled item can hinder the overall operation. As a result, the move of a library collection is unlike any other relocation. Without strict adherence to the overall organizational structure of the collection during the packing, transportation, and unpacking process, there's an increased chance of patrons being unable to find information when the move is complete. Therefore, library relocations have little room for error.
Experienced Collection Relocation
Michigan Office Movers eliminates this risk by providing a detailed process for the transfer of library collections informed by years of experience. Throughout the years we've executed successful library relocations for the following entities in Southern Michigan:
public institutions
universities
schools
government agencies
research facilities
private collectors
law firms
Move Planning and Execution
We place a high focus on the planning process which eliminates mistakes and assures the efficiency of transfer. Our expert project managers will consult with your staff and devise a project plan that meets your required time frame and specific organizational requirements. Thorough analysis and preparation allow us to cover the following aspects of your move:
collection layout and mapping
space planning
collection inventory
special collection, art, rare book packing and transfer
budget considerations
integration/segregation/reclassification
staff relocation training
building protection
alternate media forms
IT and audio/visual equipment
short term and permanent storage
Our project managers also oversee the physical library room move operation to guarantee success. During the complete move process, you're provided with a single point of contact to assure optimal communication.
Library Moving Expertise
During the move of your library, we utilize trained professionals with a proven track record of successful past experience. Their expertise extends from not only operating the necessary, highly specialized equipment and vehicles integral to protecting your collection but also understanding the particulars of library layout, logistics, and organization.
No matter how granular the indexing of your collection, we maintain the structure and preserve the integrity of your library assets. We utilize special carts built specifically for the handling and preservation of books. Each cart is labeled and shrink wrapped prior to being transported. Michigan Office Movers also offers specialized expertise in disassembling, reconfiguring, and installing library stacks.
Whether you have a phased internal transfer or large scale external relocation, Michigan Office Movers will execute a seamless move of your library collection. To find out more about how we can help you achieve the most successful library move possible, contact us by phone or complete the form on this page.
Commercial Moving Contact
We would love to hear from you! Please complete this form and we will get in touch with you shortly.