Office Furniture Sales – New and Used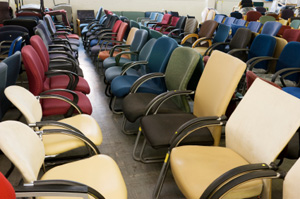 As Southern Michigan's complete resource for commercial office services, including moving, installations, warehouse storage, and distribution, we offer an extensive inventory of new and used office furniture. Clients representing a wide range of industries look to us as a premier resource for either refurbished inventory or new systems for their office facilities.
Not Your Typical Furniture Dealer
We are different from a typical office furniture dealer in that we provide a full range of solutions specifically tailored to corporate clients that include the following services:
specialized commercial moving services
office distributions and retrofits
cubicle installation and reconfiguration
high-density file systems installation
office furniture liquidation
office asset management and delivery
storage and distribution
office space planning and design
Over the years, we've customized these solutions to literally thousands of clients representing numerous industries. It's this accumulated experience that has given us a wide span of knowledge of an abundance of office furniture systems and equipment. As a result, we are intimately familiar with the intricacies, and performance of various furniture brands.
This familiarity allows us to recommend a customized office furniture solution to meet the unique needs of your business. We provide both new and used furniture and may suggest a combination of both to align with your budget and design specifications.
Refurbished Options
Our used furniture options feature equipment that has been refurbished in house by our expert technicians. We carefully select each piece of pre-owned furniture to assure quality and integrity. Each item is inspected and tested for safety. Therefore you can be assured that your pre-owned choice meets the demands of your office. We provide pre-owned and refurbished options for various types of office furniture including:
desks and workstations
credenzas
conference tables
filing and storage systems
modular equipment
For businesses looking to purchase pre-owned equipment, refurbished and reupholstered furniture can be a cost-effective option. Other organizations who wish to make purchasing decisions that align with corporate environmental sustainability initiatives, will find our refurbished furniture choices to be an excellent eco-conscious resource.
New Furniture Sales
As an authorized furniture dealer, Michigan Office Movers offers a variety of design options from various dealers. Our new furniture sales include but are not limited to the following brands:
Our extensive network of manufacturer relationships assures that you receive even the most customized order in the least amount of time. We provide turnkey service, handling the receiving, transportation, and installation of your purchase. Additionally, as an authorized service provider, we provide scheduled preventative maintenance as well as efficient on-demand repair. We even offer space planning and design consultation so that you can make sure that the option you choose aligns with your office configuration and facilitates an efficient and productive workflow process.
To find out more about our new and used office furniture sales please contact us by phone or complete the form on this page.